Ash Wednesday is next week, and it seems like I'm talking to more and more people about what their plan is for the upcoming season. Lent is my favorite liturgical season. Crazy, I know, but there is no other time of the year when I am more motivated to examine my life as it stands and build my resolve to make lasting changes in my relationship with Christ. By making the sacrifices, observing the fasts, abstaining from meat, I know that my resolve is strengthened. I am a better person at Easter than I was went Lent began.
If you have trouble with Lent, please allow me to suggest a strategy to make this season your most fruitful yet. Below are 5 practices you could embrace as part of your Lenten observance of prayer, fasting, and alms giving.
Spiritual Reading (Prayer)
Lent is an excellent opportunity to slow down, examine our spiritual life, and learn more about Christ. One of the best ways to encounter him is through a regular study time with great spiritual reading. As you read, offer that time to God for an intention and seek His wisdom and guidance.  I asked Devanie Cooper, Co-Owner & Manager of St. Paul Bookstore (a 20-something herself) to recommend some great books they have in stock.
Devanie's Top 5 Recommendations
Lent & Easter Wisdom from St. Alphonsus Ligouri
Jesus of Nazareth: Holy Week: From the Entrance Into Jerusalem To The Resurrection by Benedict XVI
Flunking Sainthood: A Year of Breaking the Sabbath, Forgetting to Pray and Still Loving My Neighbor by Jana Riess
Life of Christ by Fulton Sheen (Mother Teresa recommended reading this for Lent)
Walking with Mary by Edward Sri
Explore New Ways to Pray
We can also examine our prayer life. Where we falter, where we succeed, where we can grow… Many of us have routines that are humdrum or that have fallen by the wayside. Prayer is more than just Hail Mary, Our Father, Glory Be. Prayer is how we raise our hearts, minds, and actions to God. Why not embrace the call to prayer as a way to refresh your prayer life by trying something new?
My recommendation
Take 30 minutes a day with guided reflection and prayer. "An Ignatian Prayer Adventure" takes you through an adapted version of the Spiritual Exercises of St. Ignatius of Loyola. It's broken down into daily meditations over the course of 8 weeks. Perfect for Lent and Easter.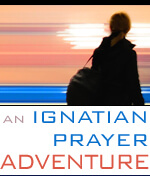 Fasting
Ok, you give up chocolate every year, and I know it's like really, really hard. I get it. It IS a sacrifice for you, but please allow me to challenge you with a question. Is chocolate really leading you away from Christ? If not, may I propose you take some time before Ash Wednesday to track your biggest sins back to their source. Do you suffer with Wrath? with Lust? with Envy? with Sloth? Think about the last time you committed that sin, the moments and events leading up to it. Do you have a seemingly benign trigger that sets you up to fall? If there is, consider fasting from that thing which leads you to sin. Running late in the morning contributing to your Road Rage causing you to act uncharitably towards others? Consider giving up the 30 minutes of Family Guy reruns before bed, so you can get up 30 minutes earlier, so you can have plenty of time to fight traffic, so you can respond with mercy and compassion to the teenager who cut you off on their way to school.
My Recommendation
On a fun note, you may never forget about abstaining on Fridays again! Check out the LENTSANITY app!

http://www.focus.org/lentsanity/
Almsgiving
Consider giving your time, talent or treasure at some point during Lent. Here's a video about Almsgiving from CRS:

CYA Recommendations
Please check out the list of organizations we recommend by following this link. 
Evangelization Bonus
Use social media to share your experience and encourage others!
My Recommendation
Check out the InstaLent Photo challenge from Busted Halo. There is a photo theme for every day of Lent. Look up the theme, post a picture that fits the theme, and tag #BHLent2015 and @bustedhalo each day! So fun!
http://bustedhalo.com/features/instalent
Sam Mauck is the Director of Campus & Young Adult Ministry for the Diocese of Memphis. You can email him at samuel.mauck@ccm.cdom.org